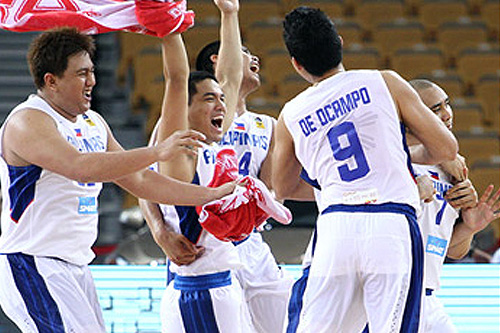 MANILA, Philippines – Samahang Basketbol ng Pilipinas (SBP) is sending a delegation to Tokyo, Japan as it makes a final push to host the 2019 FIBA Basketball World Cup.
The Philippine delegation, headed by SBP chairman Manny V. Pangilinan, boxing icon Manny Pacquiao, and former Gilas Pilipinas head coach Chot Reyes, will make a final presentation to FIBA on August 7.
Following a closed meeting on the completion of presentations from the Philippines and China, the two remaining bidding nations, FIBA will officially announce the host country for the 2019 FIBA World Cup.
The SBP is confident that it can deliver an international sporting event that is both memorable and shareable, saying in a statement that the organization has enjoyed "the long-standing commitment of the Philippine national government and a diverse and deep support from the private sector."
"We already have a four-year plan in place to help create an incredible FIBA Basketball World Cup 2019 for the Philippines and the world," Reyes said in a statement.
"We will have a united effort that combines both the public and private sector, and will be supported by international event management consultants and major event specialists that will be retained to support our efforts," Reyes added.
Pangilinan noted that basketball is "part of our cultural fabric and the number one sport" in the Philippines.
"The opportunity to receive the honor of hosting the FIBA Basketball World Cup would provoke extraordinary national pride," he said. "And as the social media capital of the world, that's something that would inevitably be felt and talked about worldwide."
Philippine officials are growing confident that they can overcome China's bid, with Reyes noting that there is high regard for the country not only by delegates within FIBA, but also by the global basketball community.
The Philippines also has a long history of hosting major global sporting and social events, starting with the FIBA World Cup in 1978. The country memorably hosted the FIBA Asia Cup in 2013, which saw thousands of fans enjoy 11 days of competition at venues in Pasay City and Manila.
The country also hosted the Asian Men's Club Volleyball Championships in 2014 and welcomed 21 world leaders at the World Economic Forum in Manila; earlier this year, the Philippines hosted Pope Francis' first visit to the country.
To reinforce the strength of the Philippines as the social media capital of the world, SBP's campaign to host the FIBA World Cup is being boosted by the hashtag "#PUSO2019," and Filipinos are being encouraged to share their passion and make their voice count.
"The country, from the fans to the government to the broader business community, is fully behind our bid and hugely passionate about hosting a truly transformational FIBA Basketball World Cup," Pangilinan said.
"We believe our modern arenas, effective transportation, and combination of committed government and private sector support can deliver an outstanding tournament with a truly worldwide audience," he added.
Source: (Abs-cbn news)