MANILA – Filipinos with immigrant visas will have to reserve and register online before attending the Pre-Departure Orientation Seminar (PDOS) and the Peer Counseling Program (PCP) of the Commission on Filipinos Overseas (CFO) in Manila.
"Only clients who present a confirmed reservation slot and who have accomplished the online registration form, with the corresponding barcode reference number will be admitted to the PDOS and or the PCP," the CFO said.
This new system will be implemented by the CFO-Manila on August 17, Monday.
The document, together with all the appropriate requirements, should indicate the confirmed date and time of PDOS or PCP as it was completed in the online registration.
The Reservation and Registration (R&R PDOS) online system can be accessed via www.cfo.gov.ph or by using the link https://cfo.ph/PDOS_Reservation/.
Each PDOS will accommodate 70 attendees per session while each PCP session will take in 25 youth emigrants.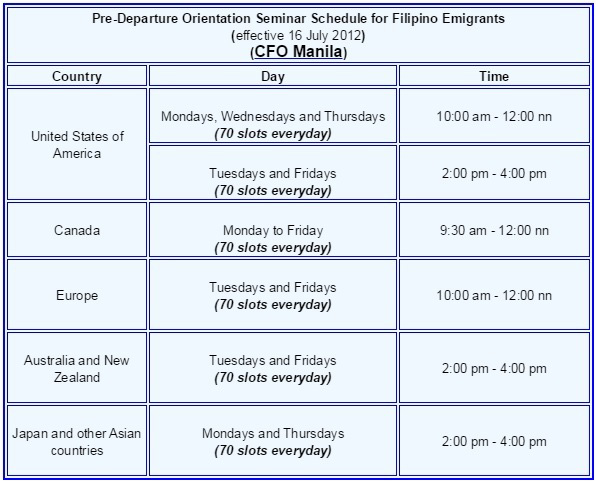 "The R&R PDOS online system will automatically close the online reservation/registration when all allocated slots for the specific country are taken," the CFO explained.
Those who are unable to appear on their scheduled seminar date will be required to reserve online again. However, the completed online registration form with a barcoded reference number will be kept active for one month and can still be used for the new reservation.
Aside from complying with the documentary requirements in their registration, emigrants between the ages of 20-59 are required to attend the PDOS which is country-specific and aims to equip Filipino emigrants with vital knowledge that may ease their integration into their new host country.
The PDOS is a comprehensive two-hour seminar conducted by CFO for Filipino emigrants to address their adjustment concerns in their destination countries.
In these seminars, various topics are discussed such as travel regulations, immigration procedures, cultural differences between home and host countries, settlement concerns, finding employment, securing healthcare benefits, qualifying for citizenship, social security concerns and rights and obligations of Filipino migrants.

For emigrants between the ages of 13-19, two PCP sessions are held daily. The procedure for attendance to the PCP will be the same as that of the PDOS which will require the emigrant to first reserve and register on-line before attending the program.
The counselling seminar acknowledges the importance of preparing adolescent members of emigrant families for their new life abroad. The session aims to discuss subjects relevant to their personal experiences such as culture shock, adjustment to foreign school systems and homesickness.
Please note that after attending the PDOS or the Peer Counseling Program, a CFO registration sticker will be affixed to the emigrant's passport, without which an emigrant will not be allowed to depart at the airport by the Bureau of Immigration personnel.
Source: ABS-CBNnews.com