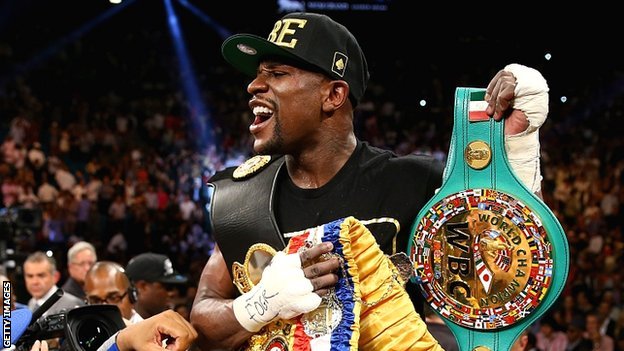 It comes as little surprise that Floyd ranks top 5 best boxers and puts himself at No. 1.
During an appearance on ESPN Deportes while promoting his September 12 showdown against Berto, Mayweather was asked to pick "the best ever" and he put himself at No. 1, followed by Roberto Duran, Pernell Whitaker, Julio Cesar Chavez Sr., and Muhammad Ali.
Among the boxers in the list whom he did not pick were Sugar Ray Robinson, Sugar Ray Leonard, Joe Louis, Henry Armstrong and Rocky Marciano.
"He's beat more world champions than any other fighter right there," Mayweather said, justifying his decision to put himself at the top of the list. "He's done it in a shorter period of time than any other fighter up there."
"And, he's done it with less fights than any other fighter up here. Record-breaking numbers all around the board – pay-per-view, live gate, landed punches on the highest percentage, and took less punishment," he added.
It was Mayweather's decision to put Muhammad Ali at No. 5 that drew the greatest criticism, but the American boxer defended his decision.
"Muhammad Ali lost to Leon Spinks, and Leon Spinks only had seven fights when he beat him. Muhammad Ali was only at one weight class, and Ali really lost all three times to Ken Norton," he said. "So this is me just being honest."
Mayweather, however, commended Ali for standing up for the African-American cause "in an era when African-Americans didn't stand up for their people."
He also defended his choice of Chavez and Whitaker, saying: "(Whitaker) didn't lose until the end of his career. He beat Chavez for real, and I'm a Julio Cesar Chavez fan. Julio Cesar Chavez was 80-0 before he lost, and he went to different weight classes."
Leonard, when informed of Mayweather's list by Hustle Boss, simply shrugged off the unbeaten boxer's rankings.
Source: ABS-CBN news