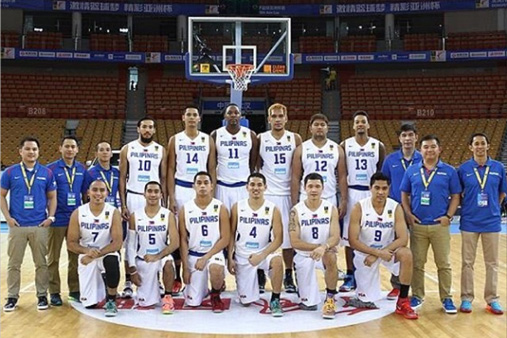 Gilas Pilipinas will get to size up three Asian rivals, including FIBA Asia title holder Iran, in the 2015 William Jones Cup basketball tournament in Taipei on Aug. 29-Sept. 6.
Team Phl will also be able to test its mettle against Japan and Chinese Taipei in the nine-team event also featuring club teams from Korea, Russia, New Zealand and the United States.
Gilas Pilipinas makes a return appearance in the Jones Cup after a two-year absence, using the invitational meet as one of its three warm-up tourneys for the 2015 FIBA Asia Championship slated Sept. 23-Oct. 3 in Changsha, China.
The Filipinos failed to defend their Jones Cup crown in 2013 when tournament organizers cancelled their invite to Team Phl due to the killing of a Taiwanese fisherman in disputed waters near Batanes.
In 2014, Gilas Pilipinas turned down an invitation for a Jones Cup return, with coach Chot Reyes opting to bring the national team to Europe in preparation for the World Cup in Spain.
But the Filipinos and the Taiwanese have since improved their strained relationship.
The two teams figure in two interesting showdowns in their respective buildups for the Asian championship that doubles as regional qualifier for the 2016 Olympics in Rio de Janeiro. They square off Aug. 30 in the Jones Cup then meet in a rematch during the MVP Cup set Sept. 11-13 in Manila.
Gilas' complete Jones Cup schedule will have the Nationals taking on South Korea on Aug. 31, Spartak-Primorye of Russia on Sept. 1, Japan on Sept. 2, Iran on Sept. 3, the Wellington Saints of New Zealand on Sept. 4, a US team on Sept. 5 and Chinese Taipei-B on Sept. 6.
The games against the Japanese and the Iranians are Gilas' most exciting Jones Cup assignments, considering they're in the same bracket in the preliminary round of the FIBA Asia Championship.
Gilas is with Palestine, Kuwait and Hong Kong in Group B while Iran and Japan are in Group A with India and Malaysia. The top three from each group will later be pooled together in Group E.
Iran still features old familiar star players Hamed Haddadi, Samad Nikkhah Bahrami, Mehdi Kamrani, Hamed Afagh and Oshin Sahakian but under new coach Dirk Bauermann from Germany.
Winner of three of the last four FIBA Asia Championships, the Iranian squad includes young players Mohammad Jamshidi, Sajjad Mashayekhi, Arsalan Kazemi, Arman Zanganeh and Bahnam Yakhchali.
Also an interesting tiff for the Filipinos is the one against the Taiwanese.
Chinese Taipei created a big stir in Manila in 2013 with its upset of Gilas Pilipinas during the prelims and its reversal of China in the quarterfinals.
The Taiwanese have improved a lot since their acquisition of naturalized player Quincy Davis. Among Chinese Taipei's homegrown stars are Liu Cheng, Tsung-Hsien Chang, Tai-Hao Wu and Lu Cheng-ju.
In the last Jones Cup, South Korea, Chinese Taipei-A, the United States and Egypt finished with identical 5-2 win-loss records after the one-round-robin tourney. South Korea emerged champion upon the application of the quotient tiebreak system.
Source: ABS-CBN News PH