SUBIC BAY – Japan has joined U.S.-led maritime humanitarian exercises off the Philippines for the first time, as concerns mount among the three allies about China's growing assertiveness in the disputed West Philippine Sea (South China Sea).
A Japanese navy replenishment ship was in Subic Bay, a former U.S. naval base, to refuel a U.S. Navy floating hospital en route to Vietnam for the seven-nation humanitarian mission.
It was the first time a Japanese navy ship has taken part in the humanitarian assistance and disaster relief drills although a flotilla of Japanese training vessels, including a submarine, makes annual port calls in Manila.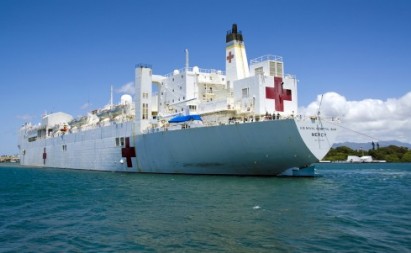 Rear Admiral Charles Williams, commander of U.S. Seventh Fleet's Task Force 73, said humanitarian assistance and disaster relief exercises were becoming a regular component of military exercises in the Philippines.
"You are seeing in exercises … a shift from strictly bilateral engagement to multilateral, which is why you see the Japanese here today," Williams told journalists aboard USNS Mercy, one of two U.S. hospital ships.
China claims most of the South China Sea, through which $5 trillion in ship-borne trade passes every year. The Philippines, Vietnam, Malaysia, Taiwan and Brunei also have overlapping claims. Japan and China also have conflicting claims in the East China Sea.
Williams said the presence of Admiral Katsutoshi Kawano, head of Japan's Self-Defence Forces, "speaks volumes about their commitment to the region and their commitment to being part of a multilateral engagement".
Kawano met early this week with his Philippine counterpart, General Hernando Iriberri, and Defence Secretary Voltaire Gazmin in Manila, where he expressed interest in holding joint amphibious landing exercises and operations with Philippine marines.
In a meeting with Gazmin, Kawano also expressed interest in sharing information in the South China Sea and capacity building, particularly in humanitarian assistance and disaster relief.
Williams said humanitarian assistance and disaster relief operations were "a great avenue towards increasing maritime stability and security in this region", part of Washington's rebalance to Asia policy.
China hit back on Monday at U.S. criticism that it restricts navigation and overflights in the South China Sea. U.S. Secretary of State John Kerry also said China's construction of facilities on man-made islands for "military purposes" was raising tension and risked "militarisation" by other claimant states.
Source: ABS-CBN News PH