MANILA – Filipino workers around the world showed their support for the global observance of World Day Against Trafficking by posting selfies bearing the hashtag #DiAko4Sale.
This is part of the social media campaign of the Blas F. Ople Policy Center and Pinoy Blog/OFW Awards (PEBA), two non-government organizations helping in the fight against modern-day slavery.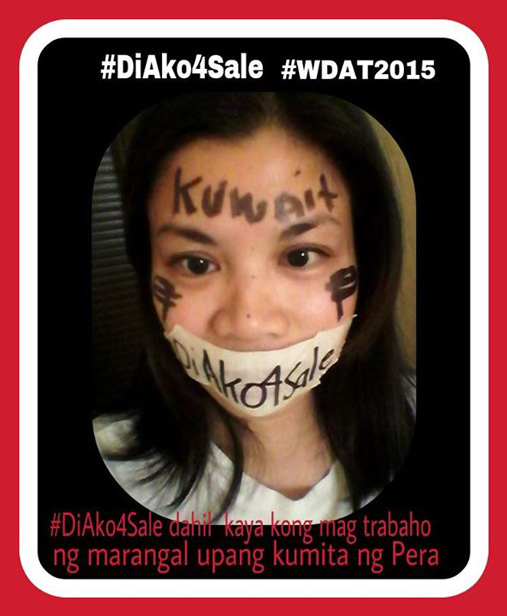 "As an NGO, we receive several cases involving trafficked overseas workers via Facebook and Twitter. The use of social media has become the norm, rather than the exception, when it comes to handling urgent OFW cases, particularly those involving maltreatment and sexual exploitation," said Ople Center president, Susan Ople.
The #DiAko4Sale social media awareness campaign coincided with this week's official release of the US Trafficking in Persons 2015 Report which categorized the Philippines in the Tier 2, meaning while not fully compliant, it has made significant efforts to eliminate trafficking.
Ople pointed out that the Center and PEBA have decided to team up to promote awareness about human trafficking through social media since human trafficking syndicates and illegal recruiters use it to recruit its victims.
"Once a recruiter only looks at an OFW as a commodity to be sold, not as a parent, sibling or spouse, then all moral values are forsaken in exchange for profit. Human trafficking takes place when money prevails over decency and moral values," said Kenji Solis, founder of PEBA and a Saudi-based chemist.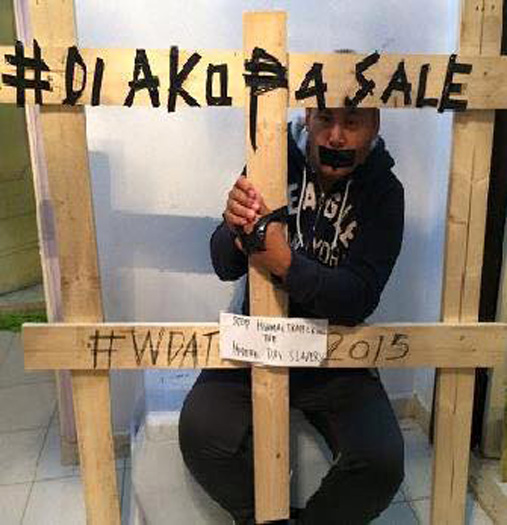 In its 2015 annual report, the US State Department includes online illegal recruitment in the Philippines as a particular area of concern.
According to the TIP REPORT, the Philippines does not fully comply with the minimum standards for the elimination of trafficking but is making significant efforts.
The government has so far convicted 54 traffickers even as it took steps to expedite prosecutions and exerted efforts to prevent trafficking of migrant workers through training and awareness campaigns for government officials, prospective employees, and the general public.
Source: (Abs-cnnews)