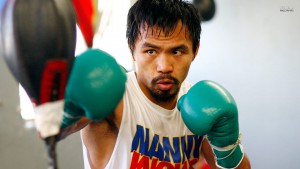 MANILA, Philippines – Filipino boxer Manny Pacquiao is projected to return to the boxing ring in the first quarter of 2016, according to his business adviser.
Michael Koncz was quoted in a Boxing Scene report as saying that the eight-division former world champion's torn rotator cuff is healing faster than expected.
Pacquiao had a surgery on May 7 to repair a tear in his right rotator cuff which he sustained during his mega-bout with Floyd Mayweather Jr.
Despite cancelling a scheduled check-up with his surgeon Neal ElAttrache at the Kerlan-Jobe Orthopaedic Clinic in Los Angeles on July 4, the boxer is healing pretty well, said Koncz.
"We have actually sent video of Manny's activities to his doctor in the US," said Pacquiao's Canadian adviser.
Koncz said if everything goes well, the Filipino superstar will see action again in early 2016.
"It'll be next year, late February or March," he said.
Interestingly, his comeback bout could be staged shortly before the 2016 elections.
Pacquiao, currently the representative of the lone district of Sarangani province, has been reported to be mulling to vie for a seat in the Philippine Senate.
To hasten Pacquiao's recovery, his promoter Bob Arum is sending in a doctor from the US to check out Pacquiao's self-rehabilitation.
Arum was earlier angered by the boxer's decision to forego the rehab process in the US, but has apparently calmed down after seeing a video of Pacquiao's healing process.
"It's fine with me if he's not going to be here in the US at the end of the month because the doctor was amazed when he watched the three-minute self-rehab video of Manny," Arum said.
"A doctor will go there in the Philippines in the next couple of weeks to evaluate Manny's shoulder and I'm really optimistic about it."
Arum, however, refused to talk about Pacquiao's next bout, saying the boxing superstar's rotator cuff will have to fully heal first before deciding on his next opponent.
"I cannot say anything yet about his next fight since he's not yet healed," he said.
Source: ABS-CBN