Ronda Rousey Defeated Bethe Correia in 64 Seconds! She has spent less than two minutes inside the UFC Octagon in her last 3 fights. Take a look back at the UFC bantamweight champion's recent domination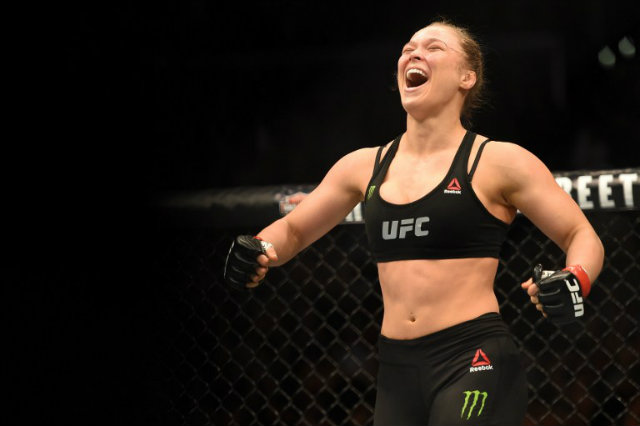 MANILA, Philippines – "Easy night, easy money" is how to bluntly describe Ronda Rousey's successful defense of her UFC women's bantamweight championship against Bethe Correia in the main event of UFC 190 on Sunday, August 2 (August 1 in US) at the HSBC Arena in Rio de Janeiro, Brazil.
Universally recognized as the top mixed martial arts female competitor in the world today, Rousey (12-0) once again proved her stature in the sport, defeating her third-straight opponent in mere seconds.
In the last 3 of her 6 title defenses, the 28-year-old native of Santa Monica, California lasted inside the Octagon no more than a minute at most.
Taken together, Rousey spent only 64 seconds within UFC's famed cage in those 3 bouts.
In July 2014, Rousey manhandled Alexis Davis in 16 seconds as she staggered the Canadian with a crushing straight right to the head and tossed her to the canvas, trapping her head and arm in the process.
A stream of unanswered punches from Rousey to the face followed, separating Davis from her senses.
Meanwhile, Rousey made it two-second short when she squared off with Cat Zingano, compelling her challenger to wave the white flag in just 14 seconds with her signature armbar submission.
Rousey did it again with Correia, knocking out and planting her Brazilian foe face first in 34 seconds with a vicious right hand to the temple.
Having a short night is not new to Rousey as she finished her first four professional fights in less than a minute each.
Rousey took care of Ediane Gomes in 25 seconds in her March 2011 MMA debut before she accomplished a 45-second submission of Charmaine Tweet two months later.
When she entered the now-defunct Strikeforce organization in the same year, Rousey compelled Sarah D'Alelio to verbally submit her in 25 seconds before Julia Budd became her fourth victim with a 39-second armbar.
Miesha Tate (17-5), the only woman that has made it out of the first round versus Rousey, is projected to meet Edmond Tarverdyan's pupil for the third time after attaining a unanimous decision victory over Jessica Eye this past July.
Tate dropped the Strikeforce women's bantamweight belt to Rousey via first-round submission in March 2012 before tapping out once more in their December 2013 rematch.
In an interview with Rappler last May, Tate stressed that she will fully utilize her striking leverage in the potential third encounter with her arch-nemesis.
"I need to have more confidence in my striking and understand that I was winning there. And I don't have to feel pressured to try to take her down. You know that I can stand and strike with her and not to rush anything," Tate said.
At UFC 190, Rousey surprisingly had the upper-hand in the stand-up exchanges, which was thought to be Correia's bread-and-butter, as the champion easily tattered the challenger with quick punching combinations while looking for a leg sweep.
Although Tate is the rightful contender for the 135-pound division's trinket, many observers believe that a third scrap will be a stroll in the park for Rousey.
As Rousey walks tall following a 34-second demolition of Correia, talks about a super-fight with Cristiane "Cyborg" Justino (14-1, 1 NC) are brewing.
Justino, the reigning Invicta FC featherweight titleholder, is widely considered as the only fighter who can reasonably expect to have a chance against Rousey and is slowly inching her way towards getting to bantamweight.
As an offshoot from the heavily-hyped boxing match between Floyd Mayweather Jr. and Manny Pacquiao, if the Rousey-Justino faceoff does not come to fruition, there will only be asterisks next to their respective records.
MMA hooligans are keeping their fingers crossed that the process will not take as long as the Mayweather-Pacquiao negotiations and will not end in a blink of an eye as common to most in Rousey's fights.
Editor's note: The story previously said that Ronda Rousey's last 3 fights had lasted a total of 103 seconds. The time she had spent fighting over the last 3 contests totaled 64 seconds.
Source –Nissi Icasiano of Rappler.com