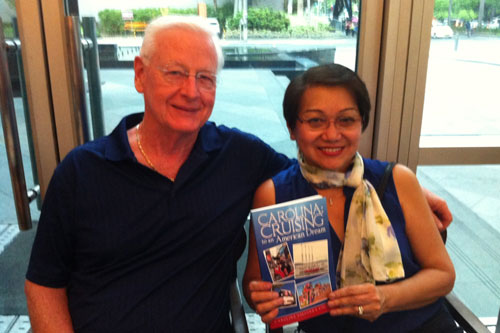 MANILA – For almost five years, Carolina Esguerra Colborn traveled to 49 American states, nine Canadian provinces and six Mexican states with her American husband with the help of an RV.
A former Manila-based executive who now lives in the US, Colborn shares her travel experiences with her husband through her first book, "Carolina: Cruising to an American Dream," which will be launched on June 27 here in the Philippines.
Speaking to a small group of journalists during her brief visit to Manila, Colborn recalled both the ups and downs of traveling with her partner, who she met through a dating website.
"They say there's no room for disagreement when you're in an RV because it's too small. But that's not true, there's a lot of room for disagreement exactly because it's too small," she recalled, letting out a slight chuckle as she referred to a specific chapter in her book, when she found out that her husband was chatting with his former college sweetheart.
Despite this, Colborn has no regrets and encouraged couples to travel together – not necessarily in an RV for over four years as she and her husband did, but at least make the effort.
The former BayanTrade chief executive officer believes that travel plays an important role in any relationship. "Traveling can be very enjoyable and stressful at the same time. In both extremes, the couple should be able to handle each other," she said.
"When you're at home, it's very easy to escape from each other. You can just lock yourself in one room and he in another room. But you can't do that while traveling because you're trying to maximize the time, looking at places. You have to be together," she added, noting how travel tests a couple's ability to adapt.
Colborn went on to say that traveling can give a couple – or anyone, for that matter – one thing that nothing else could, which is transformation.
"It drives big change. There's so much stimulus. There are so many things that you could think about and feel about," she said. "It's different from classroom learning. It's learning with the whole world as your backdrop and there are so many teachers, so many lessons."
"That's what travel does to me. It's so energizing."
Never too late to travel
During their journey, Colborn and her husband were able to snowboard in Phoenix and enjoy the summer sun in San Francisco, among others. And she did it in her 50s.
Now that her book is out, she is trying to convince people that it is never too late to see the world.
"The first four words of the book are, 'don't just dream, dare.' At 59, I really dared. The main thought that should come out of the book is whatever your dream is at whatever age, you could accomplish it," she said.
Citing her personal experience, Colborn said one should not be too focused on his or her career and forget to "cruise," which she refers to as a pace of travel that is "aimless, effortless and timeless."
"Life should be a balance between driving and cruising. I was a very driven woman before and I burned out. I realized that I should cruise a little," she said, adding, "It is not about age. It is about lifestyle."
Source: Abs-Cbnnews.com