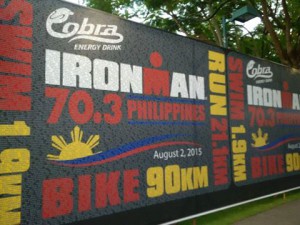 Why Ironman "70.3"?
The IronMan 70.3 also known as Half Ironman is a series of races licensed by the World Triathlon Corporation (WTC) and is held in various areas around the world.
The "70.3" covers to the total distance in miles covered in the race, that consist of 1.2-mile swim, a 56-mile bike ride and a 13.1-mile run.
In kilometers, it is equivalent to a 1.9-k swim, a 90-k bike ride and a 21-k run.
Today August 2, 2015 Triathlon is held in Cebu, Philippines. Participated with different people from different places around the world.
Source: (Heart Rizarri/PIOCebuProvince)