Dubai, UAE –  "Business as usual" Major General Mohammad Al Merri, Director General of DNRD (Dubai Naturalisation and Residency Department)  said nobody is banned from travelling to neighboring areas like Kish Island in Iran or Oman to change their visas; However, Al Merri said they prefer people go to their home country while awaiting for their employment visa so that they do not get stranded in a strange country. This is in response to the ongoing reports that UAE has banned people from exiting and changing their visas to the said areas.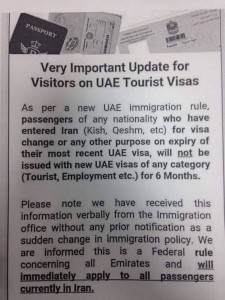 GulfNews had a Q&A with the Director General and here are some important points:
Q Is it compulsory to exit to one's home country to change visit visa into employment visa or take a new visit visa?
A No. One can exit to any country of his choice to do both.
Q Can visit visa be changed into employment visa by paying a fee and not going out of the country?
A Yes, it is possible.
Q Can people who come on tourist visas get it changed to employment visa?
A Applications will be approved on a case-to-case bases. As a general rule, it is not possible for tourists to apply for employment visas.
Q Can residents bring in their relatives on tourists visa?
A No, Only licensed tour agencies and hotels can bring in people on tourists visas.
On the question of changing a visit visa to employment visa without exiting the country, he said that people can do so by paying a fee of AED 570. "Again, we will consider it on a case by case basis. We do let people change their visa status without exiting the country in order to help them avoid difficulties" he said.
Al Merri is encouraging people to go to their home countries to avoid unwanted scenarios to happen if ever the visas are delayed or anything.
For people under Tourist visas looking for jobs in the UAE, he said that is a case to case basis but it is against the rule for a tourist to work in the country.
Kish Air's sales manager in Dubai, Joe Manjaly said there is no drop in travel to Kish Island from Dubai so far.
Source: GulfNews